CONTACT GABRIELLE FOR MORE INFORMATION
YOUR DIVORCE CAN BE SMOOTH AND PEACEFUL
AND IT DOESN'T NEED TO TAKE FOREVER

BETTER APART® BLITZ ONLINE MEDIATION.
YOUR DIVORCE CAN BE SMOOTH AND PEACEFUL
AND IT DOESN'T NEED TO TAKE FOREVER

BETTER APART® BLITZ ONLINE MEDIATION.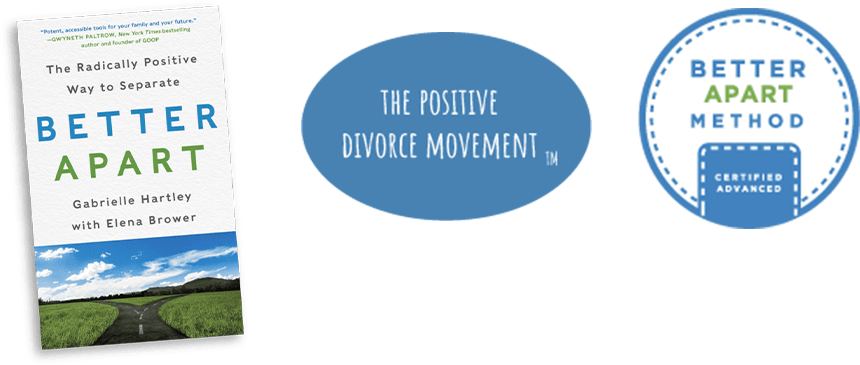 How long it will take to do the Mediation and how much it will cost?
People often ask how long it will take to do the mediation and how much it will cost.  The answer is that it really depends on you, your spouse, the complexity of the issues and how much everyone is able to compromise.  The Better Apart® Divorce approach to divorce mediation is that it focuses on finding the space between your needs and wants and the result is an agreement that leaves both parties feeling as satisfied and whole under your particular circumstances.
Check out the various plans available.
Can Gabrielle mediate ongoing coparenting issues?
Yes. Gabrielle works with clients around the world to assist with arriving at reasonable resolutions for co-parenting even under the most complex circumstances.
Does Gabrielle provide Mediation in person or online?
Both! You can do Mediation with Gabrielle online, or if you are located in New York City or Western Massachusetts then in-person Mediation is available as well.
Does Better Apart Mediation replace legal advice?
We recommend that all couples engaging with Mediation services hire local attorneys for legal information as this service is mediation only and does not offer any legal advice. 
Does Gabrielle provide legal services?
Can Gabrielle help us solve our disputes while the courts are closed due to COVID-19?
Absolutely. Gabrielle can help you mediate or even arbitrate decisions while the courts are closed to help you create a stable environment for you and your family.
Family Law Mediation is a practice near and dear to me. With extensive experience both in and out of the courtroom, I know that sometimes, litigation is necessary. But I also know that most of the time, it is not. Even if you are divorcing a narcissist, online mediation may be for you. 
My work is informed by my personal experience. I have always appreciated my parents, who were able to keep their divorce out of the courtroom, before mediation was a widely-known thing. Through their example and my years in divorce litigation, I have developed a mediation practice that can help bring you both to a set of mutual agreements that will be the guidepost to move through and beyond your divorce.
Divorce mediation is a great way to reach a reasonable resolution and avoid a costly divorce. There are many pitfalls to litigation that can be avoided by the divorce mediation process, but using a third-party neutral (the mediator), you get to maintain control over your family's life. In my experience, I have found that an expensive divorce does not mean that you will have a better outcome. A drawn out and costly divorce may mean lost savings and a loss of control through your divorce.
I mediate remotely via live video chat using Zoom, Skype, or the platform of your choice. I utilize careful protocols to ensure maximum privacy for your family. You and your family will be treated with the utmost respect at all times through the divorce process.
Your mediation process will give you a clear roadmap forward for you and for your family to thrive and survive after divorce.
P.S. I understand that even when we might want mediation, sometimes, court is the only way. I have wonderful contacts in New York City and Boston that can help you if that's the direction you wind up needing. If you're not sure that mediation is right for you, schedule a screening call with me, and let's figure out the best process for you and your family.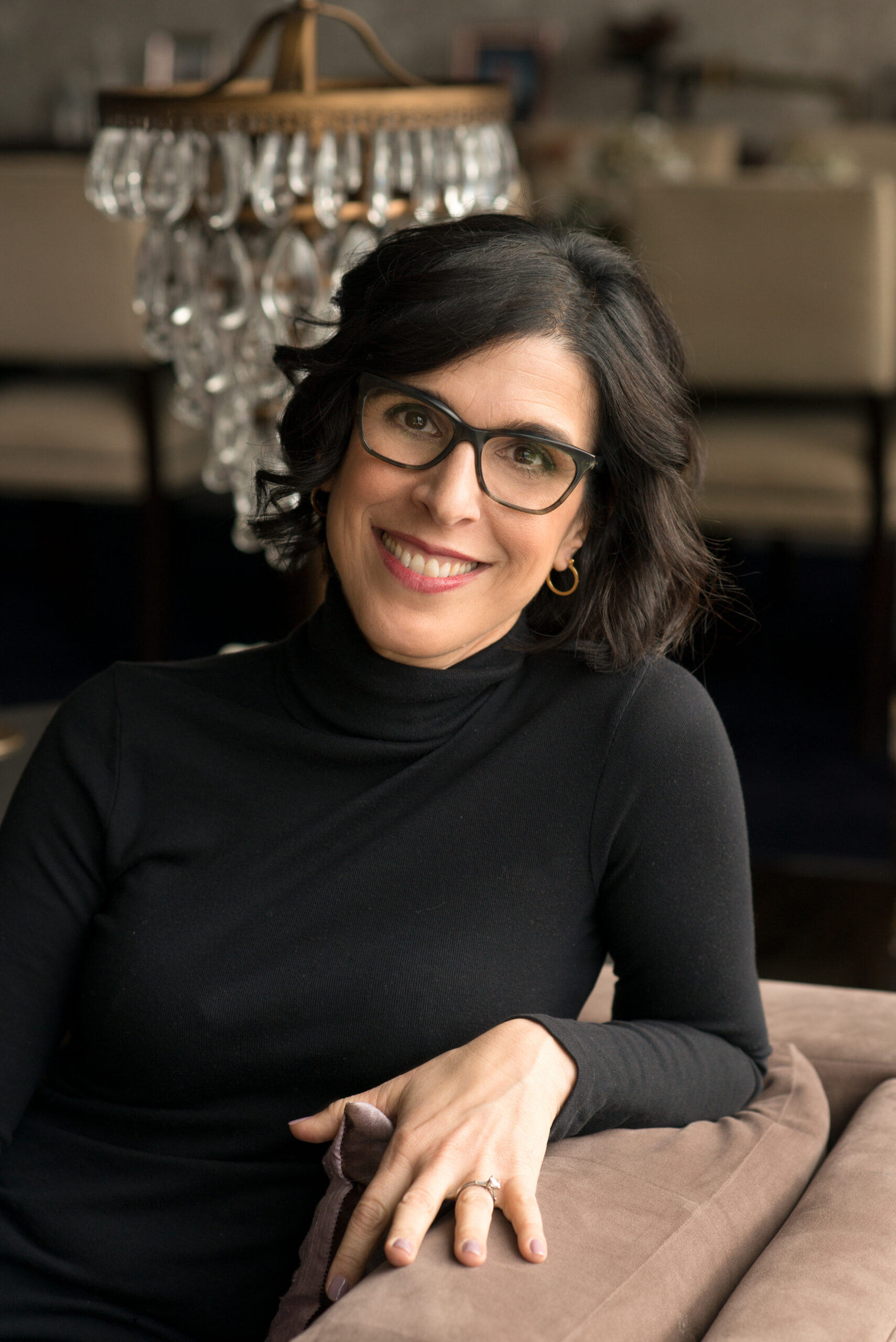 Reach a reasonable resolution mediating online with me and create an agreement that addresses: 
Finances after divorce
Custody
Parenting plans
Child support
Asset division and allocation
Alimony
Debt distribution
Pension Distribution
Health insurance
…and any other issue specific to your family!
The Radically Positive Way to Separate
Gabrielle Hartley with Elena Brower

"Potent, accessible tools for your family and your future."
— Gwyneth Paltrow, New York Times Bestselling Author and Founder of GOOP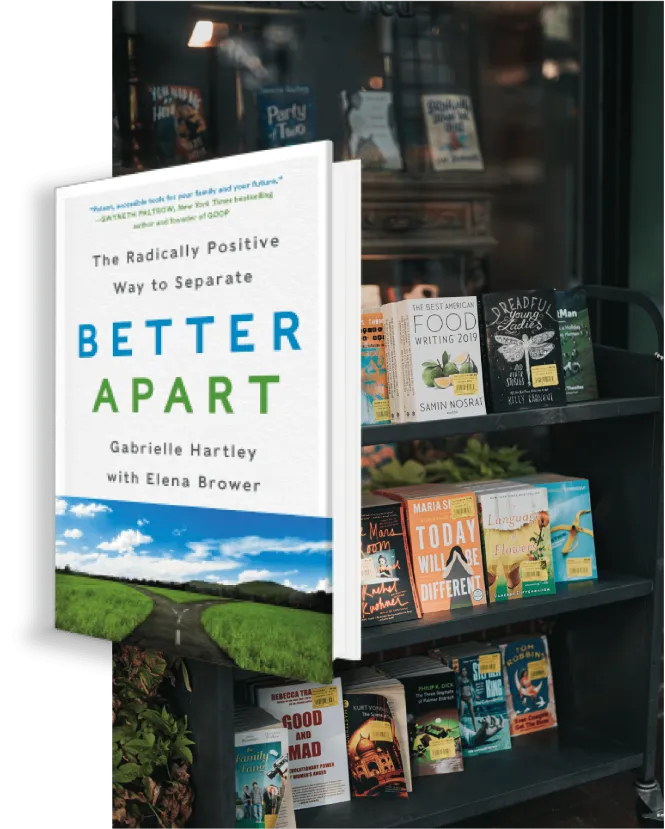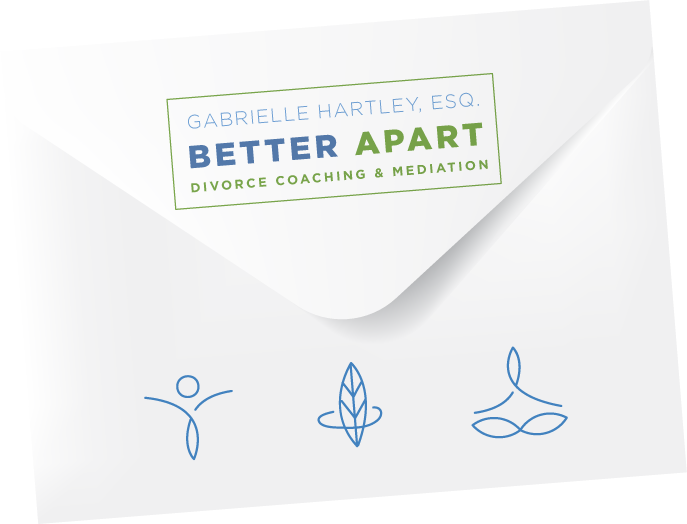 Revolutionizing the conversation around Divorce, one internal narrative at a time.
DISCLAIMER: The commentary, advice, and opinions from Gabrielle Hartley are for informational purposes only and not for the purpose of providing legal advice or mental health services. You should contact an attorney and/or mental health professional in your state to obtain advice with respect to any particular issue or problem. 
NORTHAMPTON ADDRESS: 76 Masonic Street, Northampton, MA 01060
NYC ADDRESS: 150 East 52nd Street, Suite 1002, New York NY 10022
STATEN ISLAND ADDRESS: One Edgewater Plaza Suite 304, Staten Island, NY 10305
PHONE: 413.341.0034/     917.757.0980