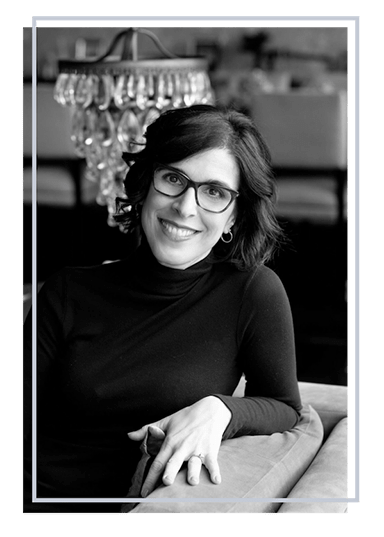 Gabrielle Hartley is a nationally recognized divorce attorney, online mediator, divorce strategy coach and author of Better Apart; The Radically Positive Way to Separate.  She is committed to keeping the online divorce mediation process as simple and streamlined as possible. She trains divorce professionals to bring the highest level of conflict resolution into their practice.  She is a highly respected negotiator, author and an engaging, dynamic speaker
Gabrielle is known for her unique, non-toxic approach to divorce that she has developed over twenty five years. She keeps 99% of her cases out of the courtroom and at the negotiating table, as she effectively supports her clients to create a healthy, uplifted post-divorce life for them.
Her parents split when she and her brother were children in the 1980s. Even when the road was bumpy, they resolved their differences out of court and modeled positive co-parenting. When she clerked for Judge Sunshine in the divorce court in New York City both in private practice and clerking for a judge, she realized that her parents were onto something.
Gabrielle created The Better Apart® Blitz Mediation to help people move through and beyond the divorce process with minimal stress and maximum ease.
When Gabrielle was a baby lawyer mediation was not widely accepted or respected.  After working for years to create a streamlined effective practice model that is delivered across the country online.
Today Gabrielle offers The Better Apart® Total Practice Makeover to help divorce professionals  to create their optimal divorce mediation practice.
The Radically Positive Way to Separate
Gabrielle Hartley with Elena Brower

"Potent, accessible tools for your family and your future."
— Gwyneth Paltrow, New York Times Bestselling Author and Founder of GOOP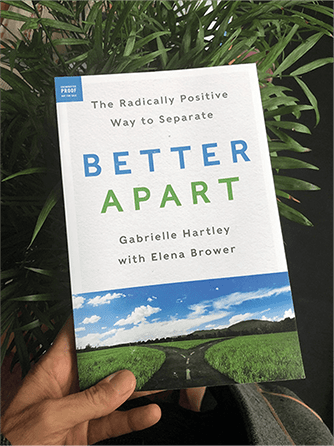 She wrote Better Apart; The Radically Positive Way to Separate with the mission and vision of smashing the shame and stigma surrounding divorce. This groundbreaking work combines her practical advice and legal wisdom with the life-changing practices of yoga and meditation offered by yoga guru Elena Brower. Gabrielle is a highly sought after speaker and divorce expert.  Gabrielle and her work have been featured in People Magazine, The New York Post, The New York Times, Vice, MindBody Green and The Yoga Journal to name a few.  She has hosted and been a guest on various divorce summits and dozens of podcasts.  Each month, Gabrielle can be seen on NBC affiliate WWLP regularly speaking about skillful conflict navigation and topical divorce issues with a positive spin.
Gabrielle offers online Better Apart® divorce coaching certification for professionals, elite strategy divorce coaching, online programs and, divorce mediation. She also offers self-care for and wellness talks for groups around the world. Gabrielle is also available to work as your in-person mediator, consulting or Collaborative attorney in New York City and in Massachusetts.
After growing up in New York City, Gabrielle attended Cornell University and Brooklyn Law School. She serves on The American Bar Association Mediation Institute Faculty and is Vice Chair of an ABA  the Dispute Resolution Sub Section.  Gabrielle serves as an advisor on the FAYR co-parenting communication application and the D-Comply co-parent payment application.She served as court attorney for Judge Jeffrey Sunshine in NYC matrimonial court and is a member of the Massachusetts Council on Family Mediation.  She is of counsel to Lisa Zeiderman in Westchester and NYC. She currently resides in Northampton, MA with her husband and three sons.

Revolutionizing the conversation around Divorce, one internal narrative at a time.
DISCLAIMER: The commentary, advice, and opinions from Gabrielle Hartley are for informational purposes only and not for the purpose of providing legal advice or mental health services. You should contact an attorney and/or mental health professional in your state to obtain advice with respect to any particular issue or problem. 
NORTHAMPTON ADDRESS: 76 Masonic Street, Northampton, MA 01060
NYC ADDRESS: 150 East 52nd Street, Suite 1002, New York NY 10022
STATEN ISLAND ADDRESS: One Edgewater Plaza Suite 304, Staten Island, NY 10305
PHONE: 413.341.0034/     917.757.0980