BETTER APART
LEGAL SERVICES Gabrielle Hartley, Esq. will help you navigate through your divorce or separation to arrive at a reasonable resolution, offering guidance and support throughout the sometimes overwhelming divorce process. Just getting married?Ask Gabrielle about whether a pre-nuptial is right for you.
As a leading divorce professional with twenty five years of experience, Gabrielle will help you navigate your divorce in a peaceful way. Even the toughest cases don't always require a judge.  Schedule a consultation with Gabrielle to see if out of court resolution is for you.
Divorce or separation is often a time of major changes for all involved.
Divorce settlements – whether mediated, negotiated collaboratively, or litigated in court – are not one-size-fits-all; each family has different needs.
As your attorney or mediator, Gabrielle will work with you toward achieving your goals of financial security and stability without creating unnecessary collateral damage for you or your children.
Divorce strategy is very important.  The choices you make as you move through your divorce process will impact you and your family for years to come. Even if you are in mediation it can be very important for you to learn your divorce legal rights. Divorce is not one size fits all.  Taking the time to get clear on your family's needs in the long-term will serve you to make better decisions through your divorce in the present. The collaborative divorce model is great for family's looking for some extra support through a non-adversarial process. If you are in mediation, consult with Gabrielle at any stage of the divorce process.  Before signing on the dotted line, be sure to have your divorce agreement reviewed to be sure that you are aware of your legal rights.
You can rely on Gabrielle for attentive and professional service whichever approach to divorce you choose. Schedule a legal strategy call to figure out your best path forward.
While mediation is available nationwide, legal representation is limited to Massachusetts and New York State.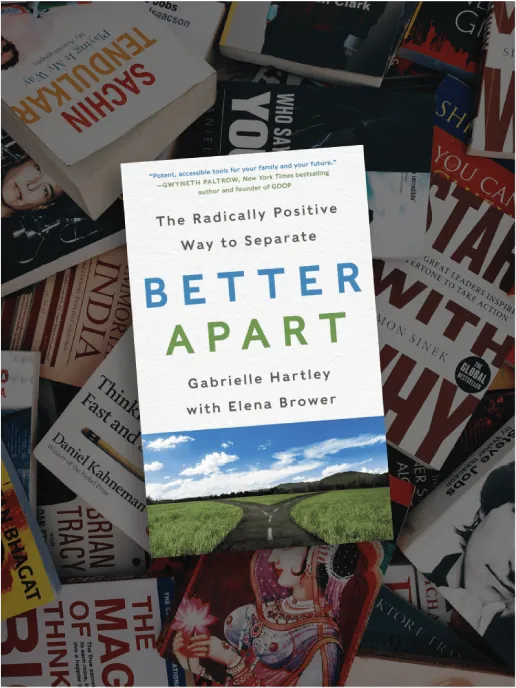 The Radically Positive Way to Separate
Gabrielle Hartley with Elena Brower

"Potent, accessible tools for your family and your future."
— Gwyneth Paltrow, New York Times Bestselling Author and Founder of GOOP


Revolutionizing the conversation around Divorce, one internal narrative at a time.
DISCLAIMER: The commentary, advice, and opinions from Gabrielle Hartley are for informational purposes only and not for the purpose of providing legal advice or mental health services. You should contact an attorney and/or mental health professional in your state to obtain advice with respect to any particular issue or problem. 
NORTHAMPTON ADDRESS: 76 Masonic Street, Northampton, MA 01060
NYC ADDRESS: 150 East 52nd Street, Suite 1002, New York NY 10022
STATEN ISLAND ADDRESS: One Edgewater Plaza Suite 304, Staten Island, NY 10305
PHONE: 413.341.0034/     917.757.0980