Become a Certified Better Apart Divorce Coach Online Today
If you are a therapist, lawyer, coach, cdfa or other divorce professional looking to add actionable tools to your toolbox, and to create a practice that is both profitable and peaceful, The Better Apart Method Certified Divorce Coach program is for you. Your client can have a peaceful divorce and you can have a better practice. The Better Apart Divorce Coach Certification, is a powerful divorce coach training that will help you learn how to manage your divorce practice in a better way, with greater confidence and positivity and allow your client to survive and thrive through and beyond divorce.

If you're a divorce professional looking to

distinguish yourself from your peers

and deliver greater value to your clients The Better Apart Divorce Coaching Certification is for you.  

Work with Gabrielle Hartley, Esq. and benefit from her 25 years of hard earned expertise as a seasoned divorce professional.  The Better Apart Method Divorce Coaching Program was created over twenty five years working as a divorce professional.  
Get: Better Apart; The Radically Positive Way to Divorce and set your clients on a positive track forward.
Gabrielle's divorce coach training program integrates mindfulness and practical legal advice in a digestible way that will help you:
Increase your professional confidence

Communicate better with your clients

Get more cases more efficiently

Get your cases on track right from the start

Get more of the clients that you want and create a thriving positive divorce practice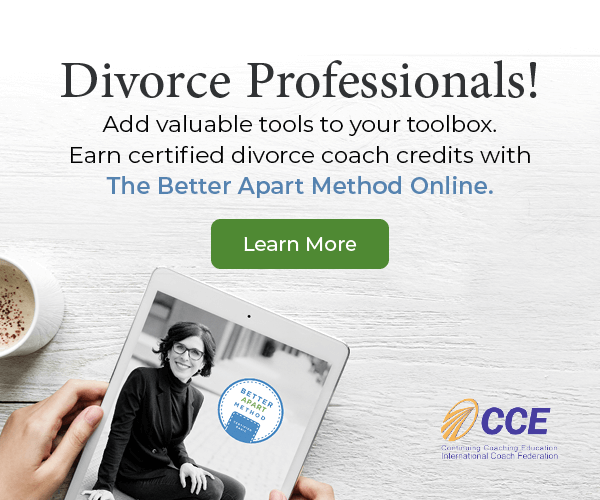 Begin with The Basic Better Apart Certified Divorce Coach Online program.  In this basic certification, you will learn the fundamentals of the five elements of The Better Apart Method: patience, respect, peace, clarity, and forgiveness can be a game-changer in your divorce practice.  (ICF Coaches can earn up to  6 CCE credits)
Move onto the Complete Better Apart Certified Divorce Coach Online program to access greater skills for your practice and your client. (ICF Coaches can earn up to 12 CCE credits)
Ready for a deep dive in a Certified Divorce Coach training program?
Earn 36 CCE credits with the Advanced Better Apart Certified Divorce Coach Online program in just one month.
Join our Members only access Better Apart Certified Professional Community and continue to learn and engage with the process and gain access to exclusive Positive Divorce Movement Business Practice meetings.
Gabrielle created the five-step Better Apart Method to give the professionals more tools for their toolbox to resolve cases with less aggravation, to help the clients get out of their own way, and to streamline the divorce process in a sensible uplifted direction right from the start.
BONUS:  These groundbreaking tools and tips will last long beyond your work with your clients.
The Better Apart Certified Divorce Coach Online program is for you if:
Have a strong interest in becoming the best divorce professional you can be
Have the desire a career that will help make a positive difference
Have experienced a personal break up that will enable you to better help others
Want to work in a fast-growing niche in the coaching industry
Want to widen the scope and add new techniques and strategies into your toolkit
Have a strong focus on an existing practice in coaching
Enjoy the challenge of marketing their coaching business
Coaching skills are needed now as much as ever.  Even though fewer people are marrying overall, 42-25% of first marriages end in divorce and as many as 60% of second marriages end in divorce.