A few weeks ago, while cleaning out my drawer, I happened upon my long lost Hello Kitty Diary belonging to 8-10-year-old me. I was grateful for this chance to get a glimpse of my nine-year-old impression of that time in my life just before, after and through my parent's divorce.

I stumbled upon an illuminating entry dated March 28, 1979. This was only a few days after my parent's split.  The episode that ended my parent's marriage occurred in a public way. I remember the deep embarrassment I felt the next day in school when some boy who I didn't know came asking me if I was okay.  He had witnessed the final blow that ended parent's marriage. You can only imagine my anticipation and then surprise when I came across my diary, reading the opening entry. Written five days after my father moved out.

"I will be nine in six days and I am upset because its my last one digit birthday. I went to music lessons today and guess what! I have 8 posters. Today I have math for homework."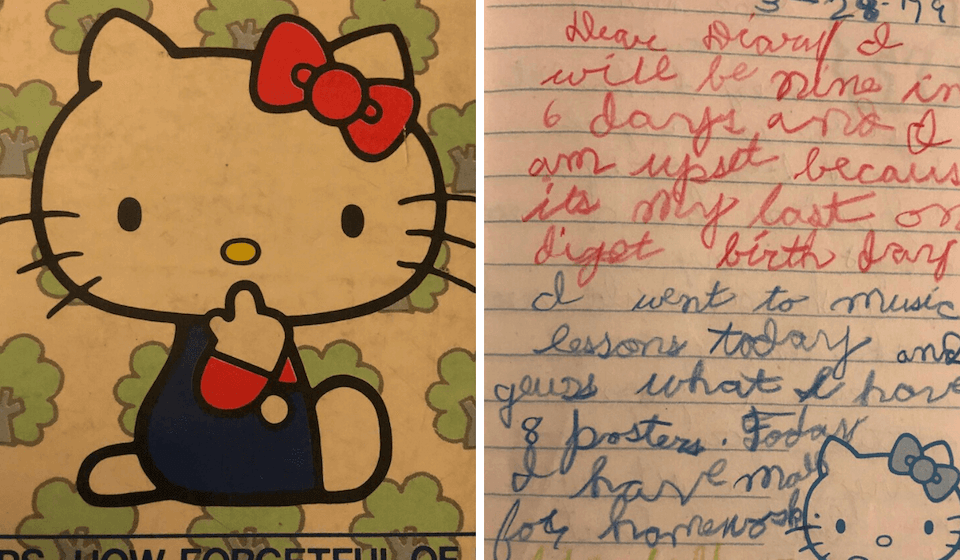 No mention of the blow-out fight. No mention of my dad re-locating to my aunt's house or my mom's incessant crying.  Not a word about anything related to the grown-up issues or the facts that would be re-shaping my life. My private thoughts, in a diary just for me, were simply related to what was going on in MY nine-year-old life.
Kids just want to be kids. If we allow them to feel safe and held, they will flourish.  Of course, my parents are human and I certainly was not shielded from all hurt, pain, or upset but I'm so grateful that right from the start the drama was kept reasonably in check, and I was able to focus on being a kid.
So here are five quick thoughts to take you through the holidays using the Better Apart Method.  Remember, your kids will be alright, so long as you are okay.  It is anger and contempt that cause harm, not the split itself. With these tips, you can maintain positivity and make sure you and your kids still enjoy the holidays after divorce.
1. Patience
Take a step back and check in to see if you're experiencing your own inner swirl during this season.  When sad feelings arise, breathe through them and then let them go. Know that while nostalgia and sentimentality have value, do your best to focus on the now.  Be kind to yourself and to your kids. Allow yourself the confidence to know that while today may be difficult, your present positive choices will guide you toward an uplifted tomorrow. Be patient knowing that the holidays after divorce will only get easier each year.
2. Respect

For this holiday, give yourself the gift of self-respect.  You will begin to feel better as you commit to spending more time with the people or activities that bring you joy.  For now, set aside all non-essential commitments or communication all things that make you feel bad about your circumstances. For your first few holidays after divorce, it is especially important that you prioritize the things that lift you up and fill you with positivity.


3. Peace
Create calm space for yourself and your children.  Notice the neutral. A gentle smile or word can go a long way to pave the way for peace.  Consider creating a mantra for peace that eases your mind and body, such as "I am radiantly calm." Try it on with your children at bedtime.  Have them give themselves (and maybe you) a big hug and say aloud, "I am radiantly calm."  Set the stage for a better tomorrow.

4. Clarity
What better time than the holidays to clarify your commitment to yourself and to your children.  On the days you are not with your kids, mindfully select an activity that suits your personal needs. Clean your house or take a trip. Get clear on what serves you. Make a clear simple plan to spend quality time with your children on the days you are with them and engage in meaningful activities.  They needn't cost a lot of money. Bake together. Go for a walk. Visit relatives or friends that you don't often see. Maybe just sit together and talk, or read. Holidays after divorce can be a whirlwind, but by slowing down and be intentional with your activities and your vision for your family, you can change the narrative.

5. Forgiveness
There is no better gift you can give than forgiveness. It is the portal to grace, compassion and emotional freedom.  Even if you're not able or interested in allowing yourself to let go of your anger towards your ex, consider allowing your child to love him or her without judgment. Your child will flourish and feel supported by you in your permission to let go and love.  If that is not appropriate for any reason, at the very least forgive yourself for the choices you may have made up to this point. Know that you have endless internal agency and create whatever life you desire.
Consider integrating one or more of these strategies and begin to feel incrementally better as you celebrate your holidays after divorce . By taking care of yourself using the Better Apart Method, you can remain calm and present with your kids, and will have the ability to be a strong anchor for your family this holiday season. You will find, even with some bumps in the road, your kids are alright. From this neutral place you can pivot to a positive future for yourself and your family.

Get Your FREE Divorce Survive & Thrive Kit!
Includes a financial blueprint for divorce, a co-parenting guide, and the BEST strategies to help you stay positive and take care of yourself during divorce and beyond.
[mailerlite_form form_id=2]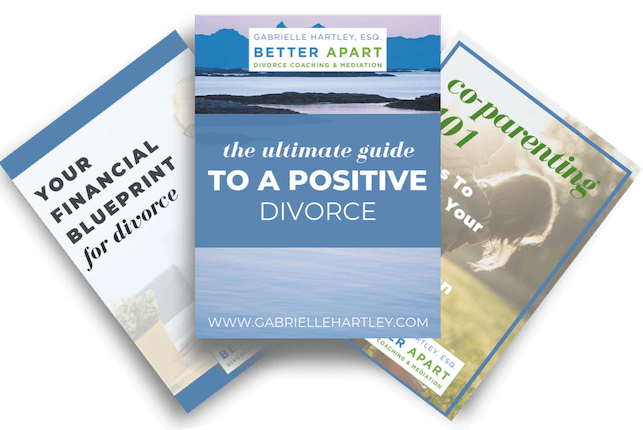 Revolutionizing the conversation around Divorce, one internal narrative at a time.
DISCLAIMER: The commentary, advice, and opinions from Gabrielle Hartley are for informational purposes only and not for the purpose of providing legal advice or mental health services. You should contact an attorney and/or mental health professional in your state to obtain advice with respect to any particular issue or problem. 
NORTHAMPTON ADDRESS: 76 Masonic Street, Northampton, MA 01060
NYC ADDRESS: 150 East 52nd Street, Suite 1002, New York NY 10022
STATEN ISLAND ADDRESS: One Edgewater Plaza Suite 304, Staten Island, NY 10305
PHONE: 413.341.0034/     917.757.0980