1. YOU WILL BE BETTER APART
In the immediate aftermath of my marriage's implosion, I wouldn't have believed that my husband and I might be better apart than together.  Three years later, I can declaratively state that we are indeed better apart and I am certain he would agree.  We were together for 27 years, since we met in college at the sweet age of twenty.  We were so smitten with each other that we moved in together right after graduation, eventually getting married and having three kids.  That was an obvious path for me – I had wanted children since I was old enough to bear them and dreamed of a stable, nuclear family, which I hadn't had as a child.  For him, it was a surprise, as he had been raised an only child of divorced, bohemian parents, and settling down so young was not part of his vision for himself.
When I discovered that he was having an affair, I felt like my entire life was a sham, that if I didn't truly know the person who I was allegedly closest to, I couldn't rely on anyone – not even myself. I was devastated. I asked him to leave our home, but I thought it would be for a few weeks only. I wanted space and time to accept what had happened and figure out how to fix it.  Our kids were so bereft that I barely had time to manage my own grief, I was so consumed by theirs.
We tried couples therapy, but the affair had effectively beheaded our marriage. Weeks turned into months and finally I acknowledged that the marriage was irrecoverable. He had been everything to me for my entire adult life, and the betrayal was traumatic. I was sad, but more than that I was angry, on fire with rage.  How dare he mess with not only my present and future but even my version of the past?  And putting aside my own feelings, how could he hurt our children?
2. ANGER IS TOXIC: NO MATTER HOW YOU HAVE TO DO IT, BE RELENTLESS ABOUT LETTING IT GO AND TRANSFORMING IT INTO SOMETHING PRODUCTIVE
I was afraid of my feelings, knowing that wallowing in misery would keep me angry and bitter, but I didn't see a way out.  I loathed this new me and wanted the old me back, the one who had been cheerful and engaged, confident and sure of her role in her family and the world.  I had to find a way forward, but wanting to let go of anger is different than actually letting it go.  It seemed like a herculean task.  My husband wasn't apologizing – he wanted me to accept my part in the dissolution of our relationship – so my anger grew unchecked.
Dating seemed like an essential step, so I forced myself to go out one night just to see what single life might look like.  I shocked myself by discovering that it was fun and liberating. Being single didn't have to mean I would spend the rest of my days digging myself out of a black pit of despair as I had been envisioning.  I now had a chance to reinvent myself, keeping the parts of myself I loved and adding to the parts that had been languishing.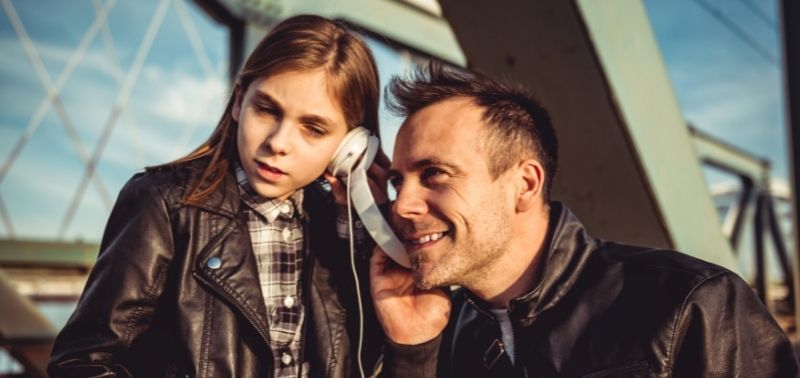 But to truly flourish, I had to let go of the anger.  I don't know exactly which came first – my starting to forgive and my husband acknowledging the pain he had caused me, or his finally apologizing and my then releasing the anger.  All I know is that it felt so good not to be enraged all the time.  I came to see that anger as venom that was poisoning me and casting a shadow over my kids.  My most important mission was to help my kids through this trauma intact, which was tough when every time their father's name was mentioned or he walked into a room, I stiffened and clenched my teeth.
3. DON'T BE AFRAID TO BE BOLD AND EMERGE FROM THE PROCESS DIFFERENT THAN WHO YOU WERE WHEN YOU STARTED
I started dating a lot, waking up long-dormant parts of myself.  I had been a self-professed homebody for years, but now I loved going out and meeting men.  My sexuality had become buried over the many years of our marriage and childbearing, but it turned out that I could resurrect it and I did just that, with curiosity and passion.  I started writing about my dating escapades and a book took shape. I had meant it to be funny, about the trials and travails of dating in mid-life, but there was more I wanted to tell, about grieving and rediscovering myself, not as a wife and mother but as a woman.
My book is being published next month, three years after I found out about the affair. My kids are on solid ground again. My ex and I are friends. People tell me all the time, you're so lucky that you and your husband are on the same page and you can co-parent so well.  I always respond that it wasn't luck, it was intention and effort and it continues to be.  We individually and then together decided that our kids would come first.  I appreciate that he's a dedicated, fun-loving dad; he respects that I'm a nurturing, thoughtful mom.  We know each of us brings strengths to the table and we support those strengths instead of trying to elevate ourselves by diminishing the other person.  The benefit of that, aside from the stability it gives our kids, is that I got him back in my life – not as a husband, but as a friend.  I remembered why I had fallen in love with him, and the best parts of who he is are part of my life again, while the other parts…well, that's the beauty of divorce, they're not mine to deal with anymore.
I can now say with confidence: when one chapter ends, an entirely new one can begin. I love my life again – that doesn't mean I don't have sad days or feel terrified of what the future holds – but my life is richer and more authentic now, and I wouldn't go back even if I could.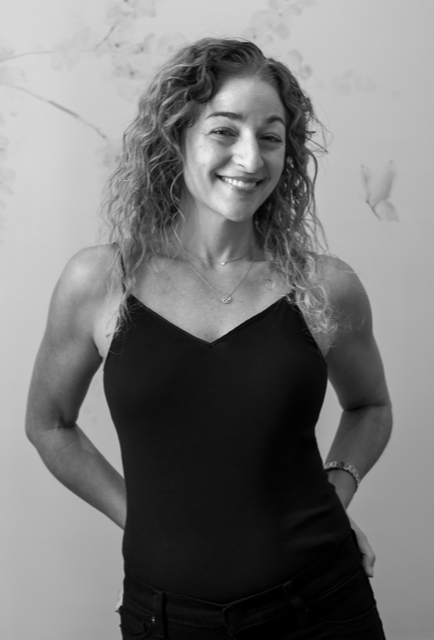 Laura Friedman Williams is the author of AVAILABLE: A Memoir of Sex and Dating When a Marriage Ends, coming in June from Borough Press/HarperCollins UK.  She lives in Manhattan with her three children.

The Radically Positive Way to Separate
Gabrielle Hartley with Elena Brower

"Potent, accessible tools for your family and your future."
— Gwyneth Paltrow, New York Times Bestselling Author and Founder of GOOP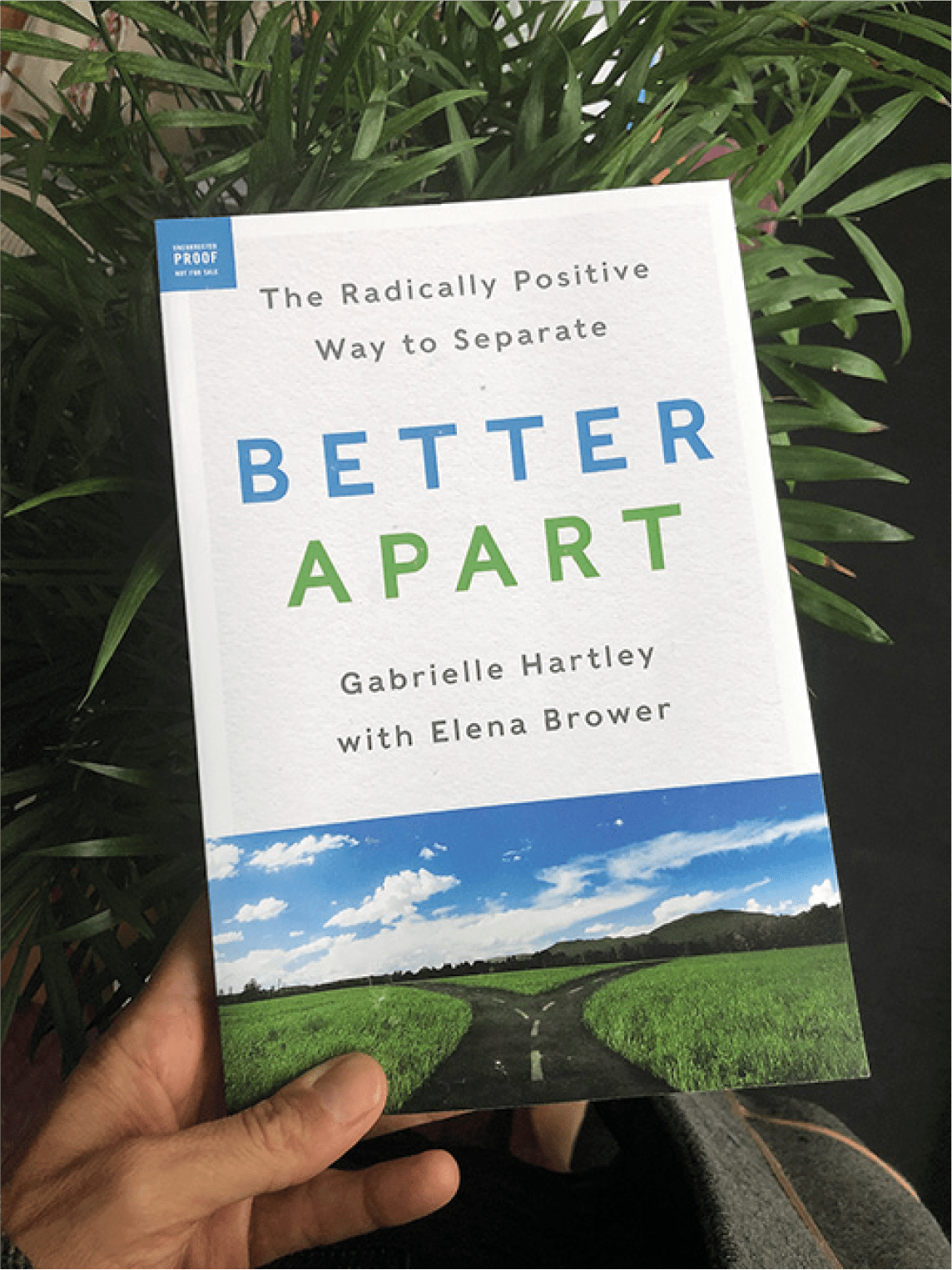 Get Your FREE Divorce Survive & Thrive Kit!
Includes a financial blueprint for divorce, a co-parenting guide, and the BEST strategies to help you stay positive and take care of yourself during divorce and beyond.
[mailerlite_form form_id=2]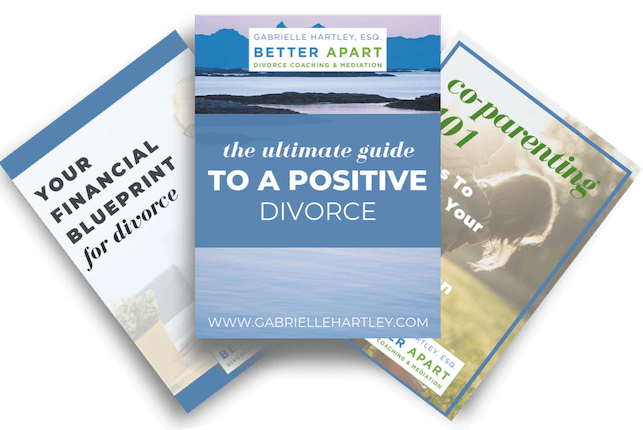 Revolutionizing the conversation around Divorce, one internal narrative at a time.
DISCLAIMER: The commentary, advice, and opinions from Gabrielle Hartley are for informational purposes only and not for the purpose of providing legal advice or mental health services. You should contact an attorney and/or mental health professional in your state to obtain advice with respect to any particular issue or problem. 
NORTHAMPTON ADDRESS: 76 Masonic Street, Northampton, MA 01060
NYC ADDRESS: 150 East 52nd Street, Suite 1002, New York NY 10022
STATEN ISLAND ADDRESS: One Edgewater Plaza Suite 304, Staten Island, NY 10305
PHONE: 413.341.0034/     917.757.0980