What is Collaborative Divorce?  Let's talk about it.
First, it is not an oxymoron.  Second, it is both an established, structured process as well as a shift in mindset.  The mindset shift is essential for the couple who instinctively understands that they want a generative process, not a destructive one. A process where they have the best chance to emerge healthy and whole-hearted, not bitter and resentful.  Collaborative Divorce is also a process chosen by divorce lawyers who want to help families transition through the divorce process in a personal, productive, and non-adversarial way.
Let's face it, couples never expect to get divorced when they get married.  Our culture places a huge emphasis on the institution of marriage. The wedding industry reports revenues in excess of 51 billion dollars per year as of 2021, in the United States. Yet close to half of these marriages fail eventually, and we are left with very few divorce options, let alone any significant emphasis on rituals that would produce a sense of emotional closure. Instead, we most often resort to blame and shame, finger pointing and play out the worst moments of a marriage in the court system, as if that will heal the pain that every divorce brings.
Collaborative divorce can be a type of cathartic ritual for many couples who crave an amicable divorce, yet many people have never heard of this divorce option. Instead, the emphasis is on litigation or mediation. What is Collaborative Divorce?   Simply put, Collaborative Divorce is the divorce industry's best kept secret.
Collaborative divorce is an entirely out-of-court settlement option, with the emphasis on empowering couples to find their best selves, even when they are feeling their worst. There are some variations on the practice across the country, but the main elements are a divorce that aligns with basic core values such as: dignity, integrity, mutual respect, transparency, and a commitment to good faith.  It is also interdisciplinary in nature.
Collaborative divorce is a one-stop-shop to meet your legal, financial, and emotional needs during a divorce.  It is a set up for success; where the idea of an amicable divorce, where children are free to love each parent without guilt, can be realized. It is a process designed for couples to walk the walk, not just talk the talk. It is intentionally structured to result in a durable resolution that meets the needs of each individual as well as the family.  This is done by taking the time that may be necessary for each person to feel psychologically ready to be divorced.  This may take some time, since divorce is viewed through the lends of grief, and people grieve their losses in different ways, and on different time schedules.
Hearing that your spouse wants a divorce is never easy.  Oftentimes, one spouse has been thinking about a divorce for much longer than the other spouse and the news can come as a bit of a shock.  It often feels like a punch in the gut. An ultimate rejection.  It stirs up some serious unresolved emotional issues, often related to the past.  It may feel like one's identity is under assault.  Someone may catastrophize.  Someone may not be able to see any good way out of this situation. Yet, once safely engaged in the safe container that a Collaborative Divorce creates, a divorcing couple (or at least one of you) may finally be able to see that this divorce is actually a blessing.  Afterall, who wants to stay married to someone who doesn't want to be married to you?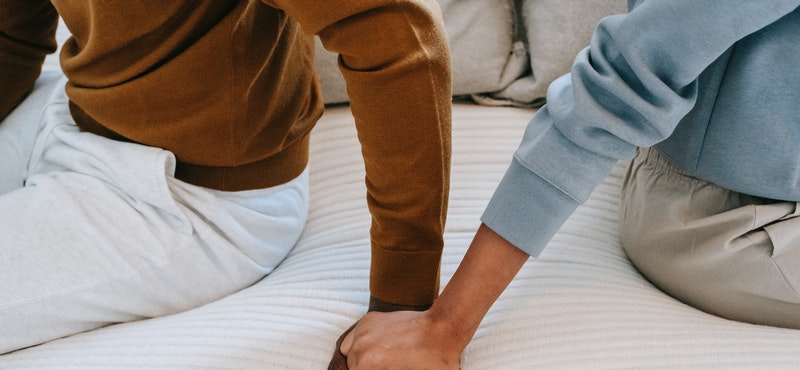 This is not easy work, and Collaborative Divorce is not for everyone.
However, if you are inclined to want to first call a qualified mental health professional, not a divorce lawyer trained in the dark art of adversarial warfare, then it very well may suit your needs.  Even if that is not your first natural instinct, resist the temptation to treat your spouse as your new enemy.
As a trial lawyer for over 30 years, as well as a Collaborative Divorce and mediation advocate, I've come to believe that the courtroom is no place to work out these intensely personal issues that will impact not only your self-esteem, but your current and future relationships with your spouse, your children, extended families, and communities, not to mention your future financial and emotional security. That is a lot to deal with and dealing with it outside of an adversarial process makes a lot of sense to many people.
Where to start?  Start with an open and honest conversation with your spouse about the process you two decide you want to use to go through your divorce.  Just like your wedding was yours to plan, so is your divorce. Assess the level of complexity involved in your family system.  If you know you will need legal advice, then each of you can start with a basic agreement that since neither of you want to make this difficult decision and time in your life worse.  Commit at the outset that you will not allow your divorce to ruin your children's childhood.  Commit that you will not treat each other as the enemy.  Understand that you need each other to have a decent, if not a healthy divorce.
Next, each of you should google "Collaborative Divorce Lawyers" near me.  Each state has a network of specially trained attorneys, mental health professionals and financial neutrals who can guide you to the right lawyer.  Collaborative lawyers are proud to identify themselves as affiliated with the International Academy of Collaborative Professionals so look for that identification when you are interviewing attorneys. Collaboratively trained attorneys will not try to sell you on the process, since we know the process itself attracts the right couples to it.
What to expect next? Once you each find a Collaboratively trained divorce lawyer whom you respect, and believe can help you through this process by giving you solid legal advice, support and empathy, a team will be assembled that includes one or two mental health professionals.  There is either a "one-coach model" or a "two coach model".  These highly skillful professionals do not provide couples therapy or make clinical diagnoses (that is for your own personal therapist).  Rather, they bring a wealth of practical ideas to support healthy communication, boundaries, and are the foundation for creating a safe place to express potentially tough ideas or strong emotions.
In general, the team can handle whatever you are dealing with.  It often also involves a financial neutral. This professional is not selling you anything, but is there to gather and organize relevant financial data, analyze it with a view to educate the team as to the monetary value of the marital estate and to help generate appropriate financial solutions that will work for each person and the family as a whole.
When the couple is ready, options are generated and final decisions are made without going to court, and without threatening to go to court.  Even when things get tough, which it does. The difference is that in a Collaborative Divorce, we take the time to rebuild lost trust and feelings of lack of accountability.  People feel heard, they each understand the nature of their marital estate, and are empowered to confidently step into this next stage of adult life, unattached to their prior ideas of who they thought they were as a married person.
Divorce does not have to be a nightmare.  It can be a hopeful, insightful, and personally empowering experience.  At its best, a Collaborative Divorce allows a couple to separate, individuate and honor a shared past, while looking forward to an authentic future which is just an opportunity to become your best self.  Now.  Embrace the change.  It is here, and denial will not help.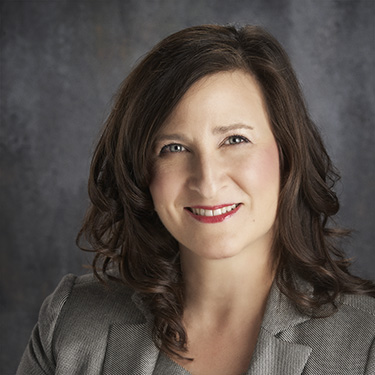 Nanci A. Smith, Esq. is currently a divorce attorney licensed in Vermont and New York. She practices
Collaborative Divorce
, Mediation and is available for divorce consultations.
P.S. Want more tools and resources to stay positive during a divorce? Download my Free Divorce Survive & Thrive Kit below!

Get Your FREE Divorce Survive & Thrive Kit!
Includes a financial blueprint for divorce, a co-parenting guide, and the BEST strategies to help you stay positive and take care of yourself during divorce and beyond.
[mailerlite_form form_id=2]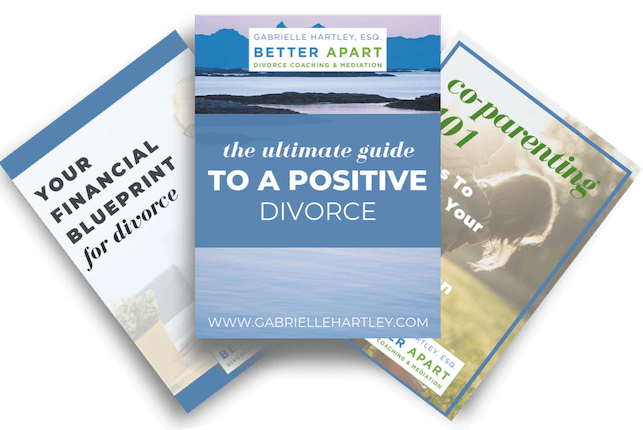 Revolutionizing the conversation around Divorce, one internal narrative at a time.
DISCLAIMER: The commentary, advice, and opinions from Gabrielle Hartley are for informational purposes only and not for the purpose of providing legal advice or mental health services. You should contact an attorney and/or mental health professional in your state to obtain advice with respect to any particular issue or problem. 
NORTHAMPTON ADDRESS: 76 Masonic Street, Northampton, MA 01060
NYC ADDRESS: 150 East 52nd Street, Suite 1002, New York NY 10022
STATEN ISLAND ADDRESS: One Edgewater Plaza Suite 304, Staten Island, NY 10305
PHONE: 413.341.0034/     917.757.0980