Nine Common Triggers to Emotional Flare-up
I joined Attorney | Mediator Gabrielle Hartley to look at 9 common triggers to emotional flare-up that are prevalent in the context of divorce. Our goal is to make you aware of these triggers, how they fit in your life, and when they happen, how do you respond.  The goal is to move beyond just surviving the divorce into thriving into life moving forward.  There are nine common triggers to emotional flare-up.
And, the good news is that taking a few moments, not years of analysis, to recognize how these triggers show up in your life, your behavior with others and what they mean to you can reshape and redirect all walks of life, not just life post-divorce.
Now, isn't that worth taking a few moments to ponder?
Reflect on how these 9 common trigger emotional flare-ups in your life, or not!
What feelings surface for you when you experience any of the following and where do you go?
Rejection
Abandoned, excluded, ignored
Betrayal, breach of trust
Unjust, unfair treatment
Challenged, questioned beliefs
Helplessness, loss of control
Loss of independence
Disapproval, criticism
Insecurity, lack of confidence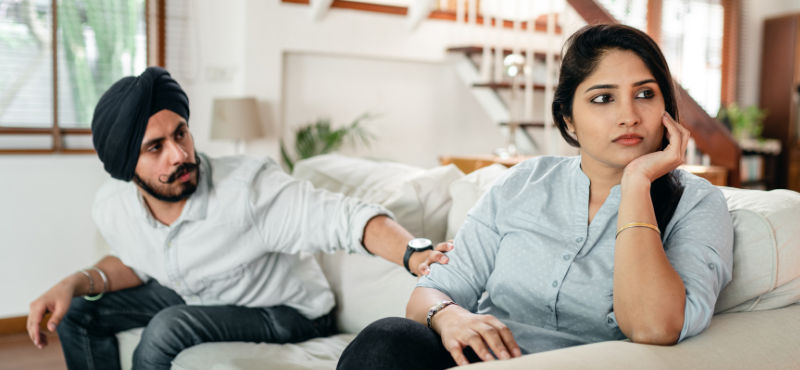 Emotional Wounds and Unmet Needs
Often, these common triggers surface as a result of unmet needs and emotional wounds from the past.  How we act on these triggers in our current adult life now impacts those around us, including the divorcing spouse and the children involved.  Holding on to the unmet needs and hurts, consciously and unconsciously, serves as barriers to getting on with our lives and the lives of our children.
The emotional roller-coaster experienced as we go through the 'loss' of the life we once had is a tear-jerker, nail-biter, and simply overwhelming at times.  As divorce professionals, we can use our skills using appreciative inquiry and curious questioning to guide people through their thoughts and feelings, the emotional upheaval experienced, the distortions in thinking and cognitive biases held.
As Gabrielle and I discussed, simply increasing awareness, recognizing what's going on, leads to knowledge and empowerment to gain needed skills to do things differently in small ways that lead to BIG changes.
Shifting the Mindset
It's about shifting the MINDSET to look at things differently and then gaining the necessary skills needed to live  LIFE in new ways.
Gabrielle offers some wonderfully practical insights through her book and program on "Better Apart." What I love about her approach is that she offers something for the person going through the divorce but also the professional guiding the person through the divorce either as legal counsel, a mediator, or a coach!  All very insightful for someone trained in law but steeped in life experiences that shaped her thinking and perspective differently.
Gabrielle is an excellent example of how to use your experiences to visualize a new future where life doesn't have to be so tough.  We talk about the value of a Parent Coordinator for those parents going through divorce and how they can minimize the negative aspects (like the things you're experiencing).  And, how a Parent Coordinator can maximize the tremendous learning opportunities available for "teachable moments" for your children that they would never experience in an intact family.
Believe me…I'm not a proponent for divorce.  Yet, if it isn't working and you're not happy, there are some wonderful opportunities to navigate through it differently than many of the horror stories we've all heard over the years.
Address the Breakdown Early and Take Advantage of Valuable Resources
The biggest key is to address the breakdown early.  And, the earlier you intervene can be a life-changer.  Many people run to attorneys to file against the other parent.  Don't get me wrong – attorneys fulfill an important purpose.  It's important for you to understand your goals and the purpose that attorneys fulfill.
In today's world, many more options exist.  If you are clear that the marriage is ending, getting some coaching on how to proceed is important.  Getting some education on how the current process is critically important as well.
Many divorce workshops are available at low cost that provide legal, financial, and psychological perspectives.  As we say in the field, it's a 'team' approach to ensure that you are prepared for the 'game' ahead.
It also means doing some personal work yourself to check where your mindset is and the triggers in your life.  Just because the marriage is ending doesn't mean the triggers will go away as you move into a post-divorce parenting world.  And, I'm a strong proponent that knowledge is power, creating new opportunities and perspectives.
Life Savers
Back to our earlier point, using a Parent Coordinator can be a life-saver in so many ways by modeling, coaching, guiding and resolving the differences that surface.  This is valuable not only for you and the divorcing parent but most importantly for the children involved.
Whether you're the divorcing adult or the divorce professional, practice the '3 B's' – Be in the Moment, Breathe through the Moment, and Break Free from the Moment by visualizing a calm and confident YOU!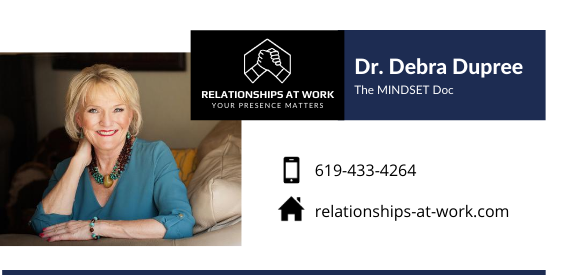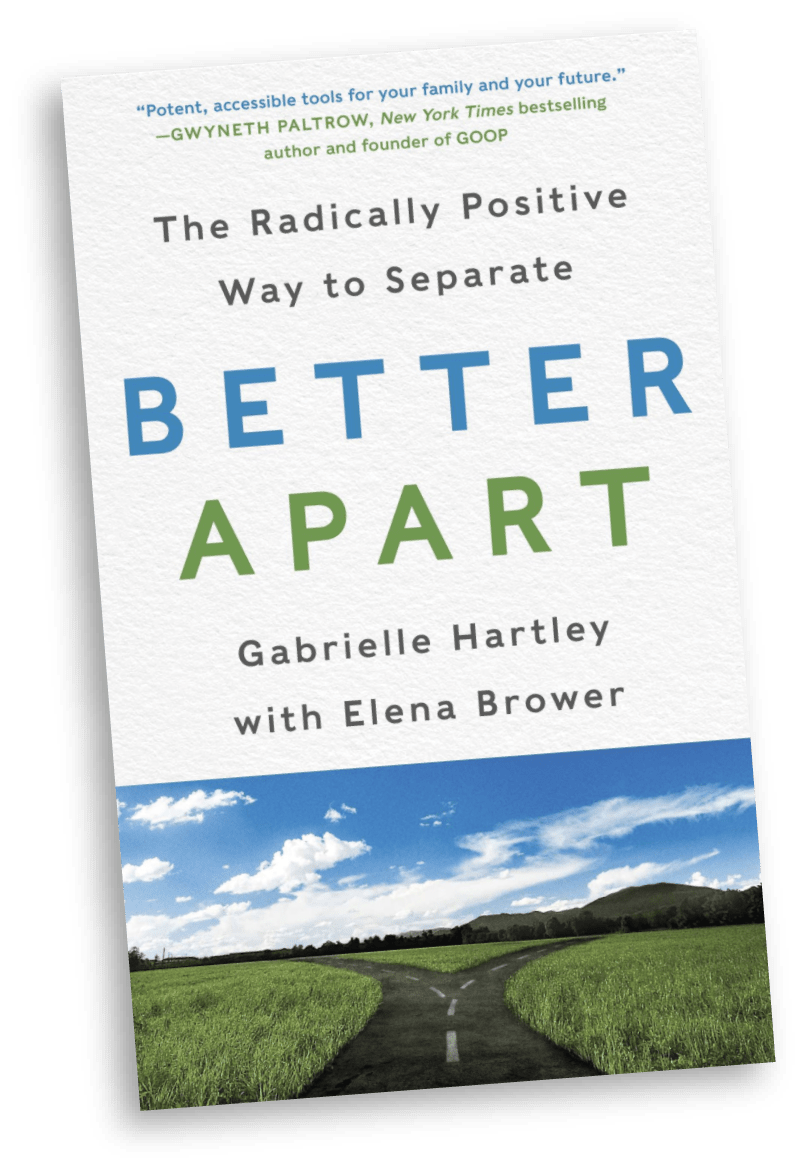 The Radically Positive Way
to Separate
Gabrielle Hartley with Elena Brower

"Potent, accessible tools for your family and your future."
— Gwyneth Paltrow, New York Times Bestselling Author and Founder of GOOP

Get Your FREE Divorce Survive & Thrive Kit!
Includes a financial blueprint for divorce, a co-parenting guide, and the BEST strategies to help you stay positive and take care of yourself during divorce and beyond.
[mailerlite_form form_id=2]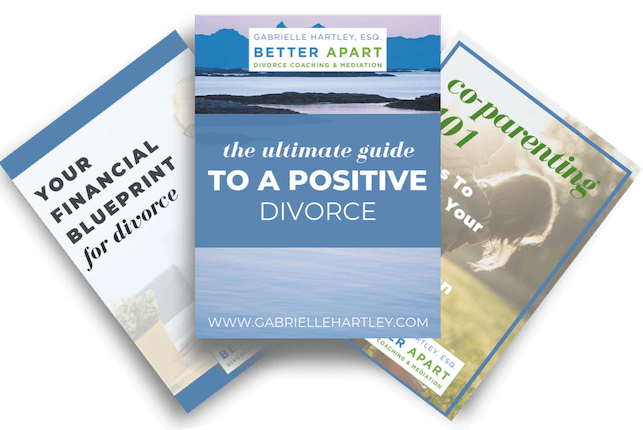 Revolutionizing the conversation around Divorce, one internal narrative at a time.
DISCLAIMER: The commentary, advice, and opinions from Gabrielle Hartley are for informational purposes only and not for the purpose of providing legal advice or mental health services. You should contact an attorney and/or mental health professional in your state to obtain advice with respect to any particular issue or problem. 
NORTHAMPTON ADDRESS: 76 Masonic Street, Northampton, MA 01060
NYC ADDRESS: 150 East 52nd Street, Suite 1002, New York NY 10022
STATEN ISLAND ADDRESS: One Edgewater Plaza Suite 304, Staten Island, NY 10305
PHONE: 413.341.0034/     917.757.0980